The beginning of a great adventure …
Elisa and Guillaume met 4 years ago. Whereas Guillaume and his father had explored the UK and France from Calais to La Rochelle on their Dufour sailing yacht, Elisa came to discover the pleasures of sailing and life aboard a boat when she met Guillaume. It has been a complete thunderbolt!
And one month ago today, they left Quiberon in Southern Brittany on their Dufour 425 to discover the Atlantic, via Spain, Portugal, Madeira, Canaries Islands, Cape Verde, the Caribbean, Bahamas, Bermuda and the Azores. Their travels will take them a year.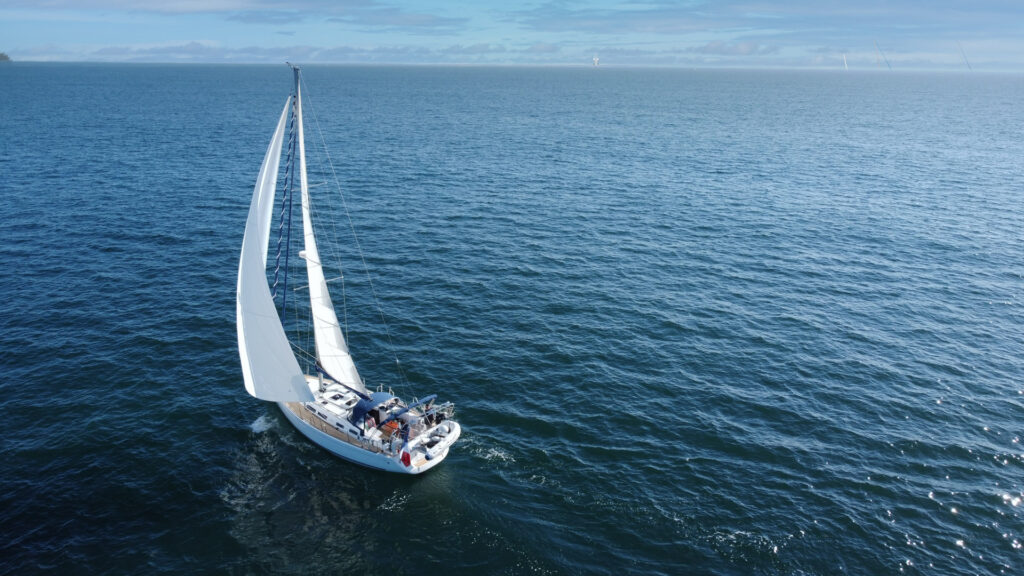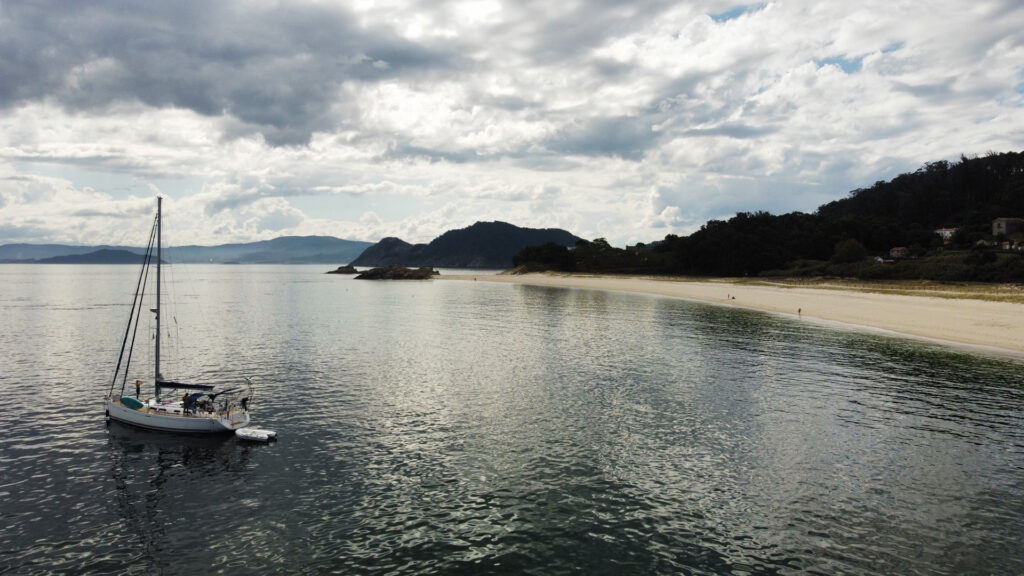 Before ever thinking about this trip, Guillaume had been sailing since he was a child with his father on a sailing yacht Dufour 365 before getting the Dufour 425.
My father bought a Dufour 365 in 2007 in order to cruise 2-3 weeks a year and enjoy the weekends together. After a few years we wanted to go longer and further away with a bigger and better performing boat. We visited several Dufour models; the 385, the 40 performance and the 425. The Dufour 425 immediately won us over with her large interior spaces and spacious exterior deck. Then, we visited several 425 without immediately falling in love … until we were told about this one in the Mediterranean Sea and in remarkable condition. Le GG is from 2008 and was in the Mediterranean. We bought her second hand in 2011 in La Rochelle
Over the past 10 years, Guillaume has had three different ports of call … This allowed him to diversify his playgrounds and discover a lot of places to sail and to anchor from Normandy to Southern Brittany.
We really enjoyed sailing in Normandy (Dives sur mer) and sailing up the Opal Coast. We then went down to North Brittany (St Quay Portrieux) where we enjoyed the Channel Islands (Anglo-Normandes) and England. It's been 3 years now since we landed in Quiberon in Southern Brittany where we've had the chance to enjoy the Islands (Houat, Belle-Ile and Hoedic) nearby as well as the Gulf of Morbihan of course which is a great playground.
When they talked about le GG, they highlight how this pleasure craft is agile and easy to steer under sail.
Simply intuitive, that's the best adjective for me. She goes through the sea very well thanks to her large draft and her beam. It is a powerful but safe hull. It's rare to get wet in the cockpit and moving around on board is easy thanks to the wide side-decks that are fairly flat.
Currently they are visiting Porto, enjoying their time there, before taking the plunge and crossing the Ocean.
They kindly wrote us a few lines about their first crossing of the Bay of Biscay: wind, sea, sunset… and tough conditions!
We left Yeu Island on the 5th of September for the Bay of Biscay crossing, which started off … calmly! It was a foggy and hot start without a wind. However, we had a great sail with a lot of dolphins. It was wonderful to hear them through the hull at night lying quietly in the cabin. Of course we had some nice surfing with the waves of the golf course which carried us to Galicia. The boat has always remained stable, making between 6 and 8 knots with 1 reef in the mainsail and a little rolled genoa. We are currently in Cascais, waiting with about 20 boats at anchor for a good weather window to cross to Madeira … theoretically and fingers crossed, a small window is emerging next week.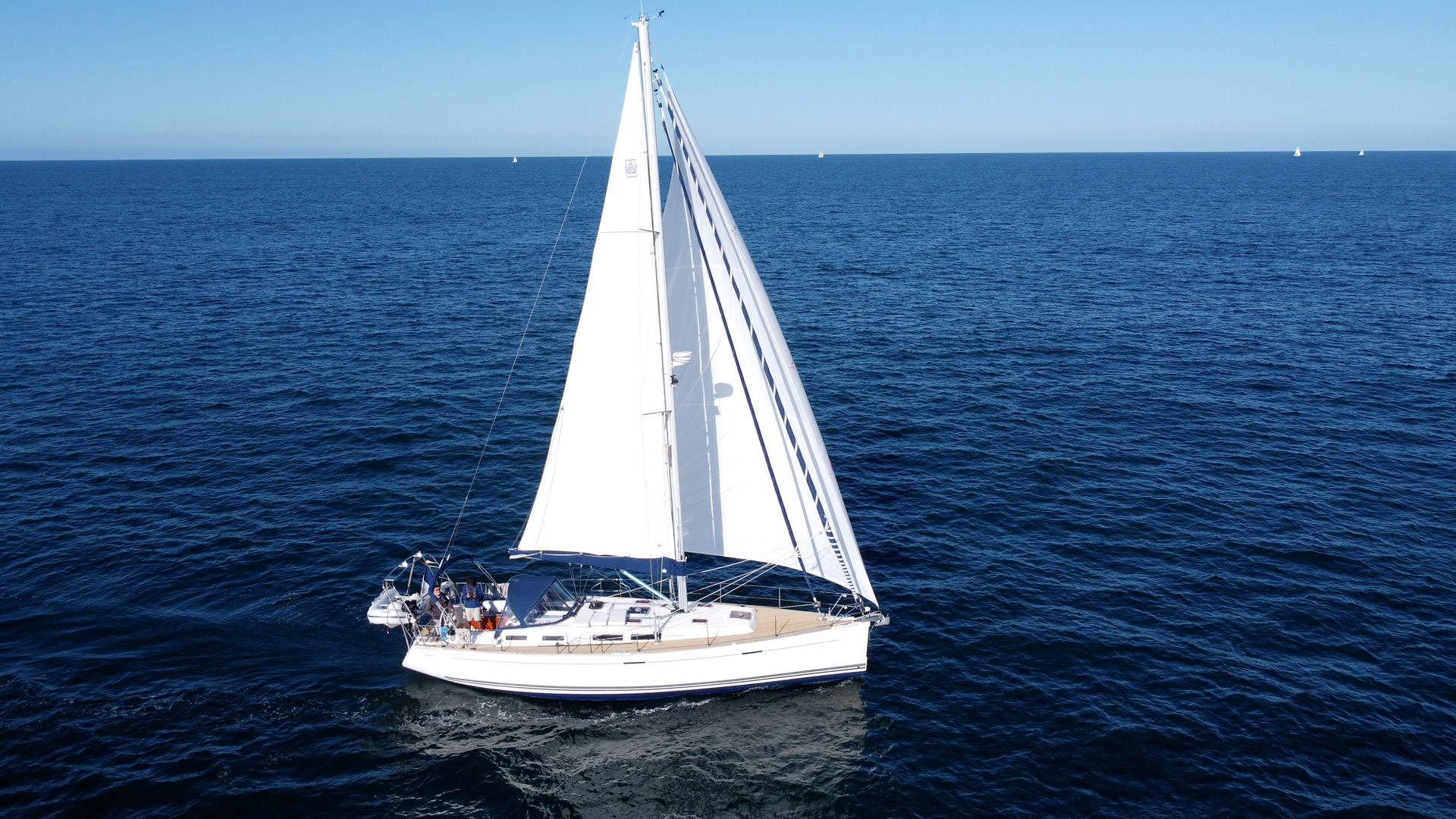 News of their adventure …
We spent about ten days in Madeira, an island we fell in love with. It's simply paradise! We'd set out from Cascais to cover the 500 nautical with two of us on board. We saw good conditions and the boat behaved very well during the 4-day crossing. We were only ever sailing downwind, with between 13 and 25 knots, goose-winged, with the genoa poled out. After a quick stop in La Palma we headed off to find life at anchor in La Gomera. We saw some rough conditions between the two islands (25-30 knots set in, and on the nose) with seas of 3 to 4 metres. This is the disadvantage of cruising the islands from west to east. But with the right sailplan, the boat was very stable and safe, and we saw average speeds of 6 to 8 knots. It was great to feel the boat behave like that in such conditions. We'll be heading to Tenerife and then Gran Canaria in the next few days to prepare for our Atlantic crossing. Departure for Cape Verde is scheduled for early December.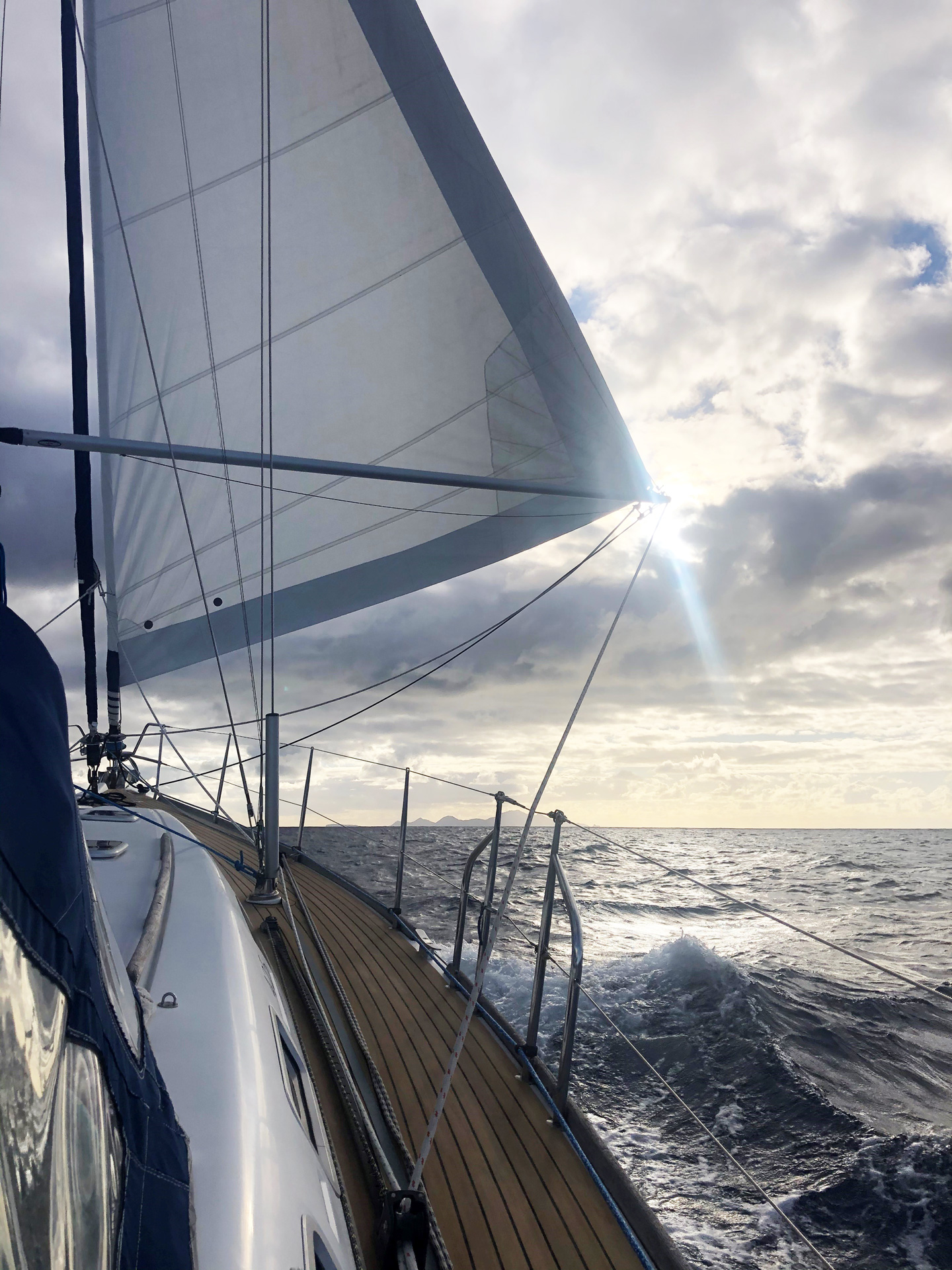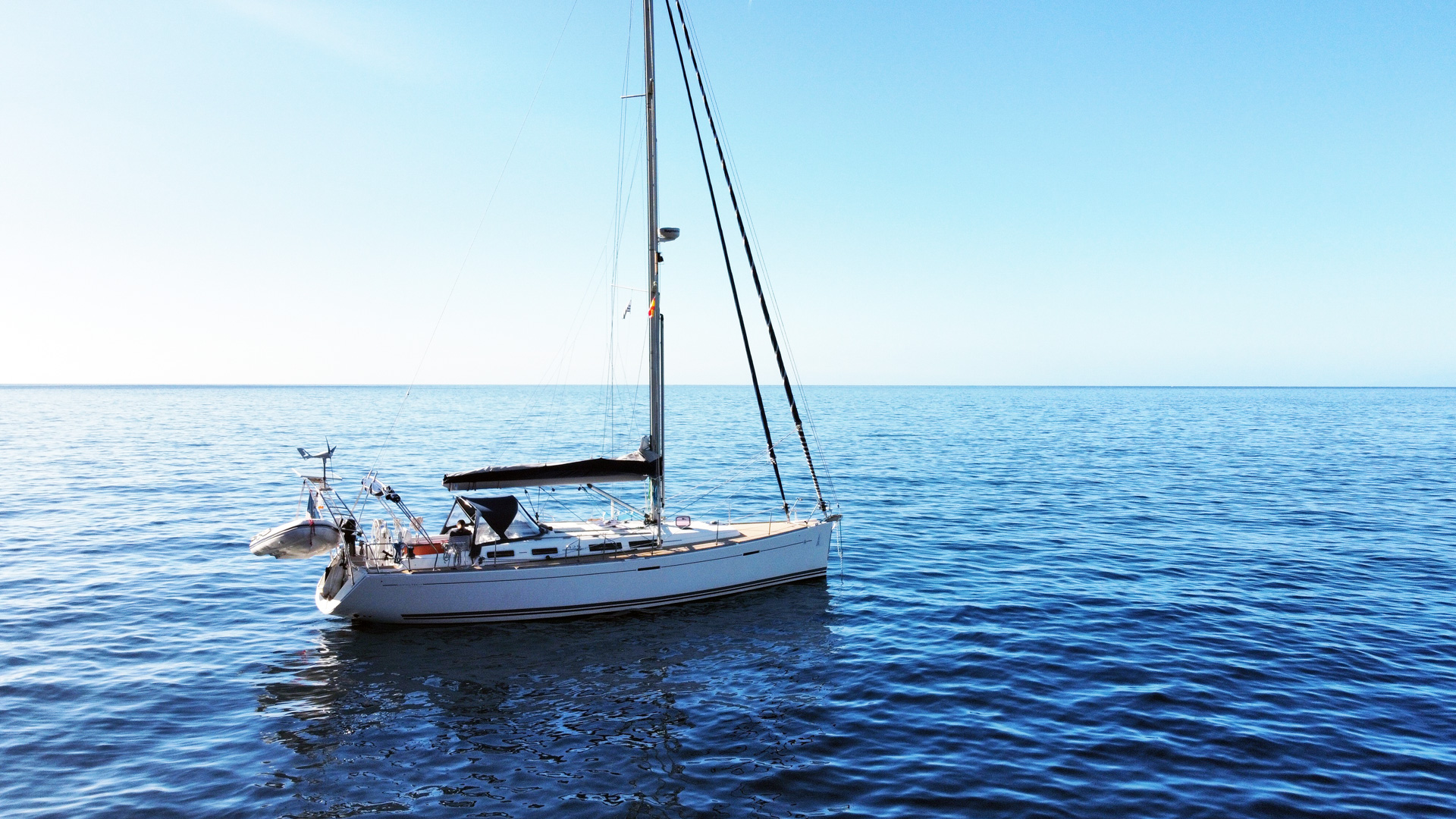 Father – Son: chronicle of an Atlantic crossing aboard a Dufour 425
23rd November: Sunrise, and we leave Las Palmas astern. We'd spent a good week waiting for the right weather window to make Cape Verde.

For my father and I, it was a two-stage transatlantic passage that awaited us. Because yes, it wasn't as a couple, but as father and son that we were making this crossing – a long-held dream for both of us that was finally coming true. Ahead of us, 850 nm to reach Mindelo. What was in store? 3 days with mild conditions (10-15 knots) and 3 sportier days (25 knots) were forecast. Those first 3 days were pleasant: we read, we fished, we enjoyed! And the boat was going quietly and comfortably. On the fourth night, the weather changed, the wind picked up 20, 25, 30, 35 knots… It was "forecast", we'd been expecting it. The swell also increased by 2, 3, 4 m… and ultimately, these were the conditions we had for next 3 days. Was it comfortable? We'll come back to that one! Trimmed well, the boat was fast and demonstrated remarkable seakeeping. Despite the conditions, we felt completely safe on our boat, particularly down below because that's where we spent the most of our time during those few days. It took us a little over 6 days to reach Cape Verde. There was no human or material damage, prompting ever stronger confidence in the boat following several days in such conditions. Our tour of Cape Verde was undertaken over a good week, in the end allowing us to discover 3 islands: Sal, Santo Antão and São Vicente. A superb discovery of this archipelago.

7th December: Departure Day for this famous passage! Ahead of us? 2,100 nm of blue, wind, waves… On the menu this time? 2 days of lively conditions (20-25knots) and then the gentler trade winds as far as the eye can see. Splendid! Once again the forecast had been optimistic and was changing very quickly … The trade winds settled in, out of the North / Northeast but they were strong! The wind didn't drop below 25 knots the first week… with some gusts to 40. The advantage of these conditions is that the boat moves fast. She surfed with confidence in the troughs and the speed sometimes went crazy on waves that were a little bigger than the others, 12, 13, 14nds … Once again, comfort is all relative, but the boat remained remarkably stable. We touched the sails very little during this first week. Well balanced and secure, GG was gliding endlessly through the water! Making a course of 270°, bound for Martinique. The second week, the weather was a bit different, the wind had stabilized at 22-26 knots, but squalls were numerous and played with our nerves throughout the whole week. It was rare we went below 6 knots. The sea was still very rough and didn't really calm down until we arrived on day 14. We dropped anchor off Sainte Anne in the dark.

Overview of our Transat:3,000 nm from Las Palmas, 6.7 knots average speed with conditions (too) much livelier than we had imagined. Everything went well on board and with the boat. We had obviously envisaged a "calmer" Atlantic crossing, but that will be for next time! Either way, it was a great experience shared between Father and Son and above all a dream that is finally coming true for us.
We are now heading for the discovery of the West Indies.
See you soon for the rest of their journey 😉
Follow them and participate in their adventure on Instagram: @sailingleGG