New video of the sailing boat Dufour 37
Embark on board the brand new Dufour 37 sailboat to discover the charm of a cruise for two on the Bay of Arcachon in southwest France. A wild and marine setting, which enhances the elegance and style of this outstanding sailing boat… #InstinctiveSailing
~ ~ ~
Dufour's DNA is maintained: enjoy large outdoor living spaces.
The Dufour 37 benefits from the major innovations that have made her big sister so successful: the layout of the Bowsprit, the large deck and hull windows, and the layout of the exterior spaces, which make it easy to move around the deck. This new unit also has a larger cockpit than on other yachts of this size.
On this new model, as on the latest models in the range, the focus has been placed on outdoor living, the DNA of the Dufour shipyard for many years.
Ideal for coastal sailing or family outings, a regatta with friends, or a round-the-world sailing trip, the Dufour 37 will meet all your expectations and offer you everything a cruising yacht can.
This new model is over-equipped with features: the plancha, a must-have innovation in the latest Dufour models, on the aft deck; a fully inflatable cockpit cushion and a forward sundeck complete the exterior amenities of this new model. The Dufour 37 is the perfect sailboat to enjoy convivial and festive moments with those closest to you.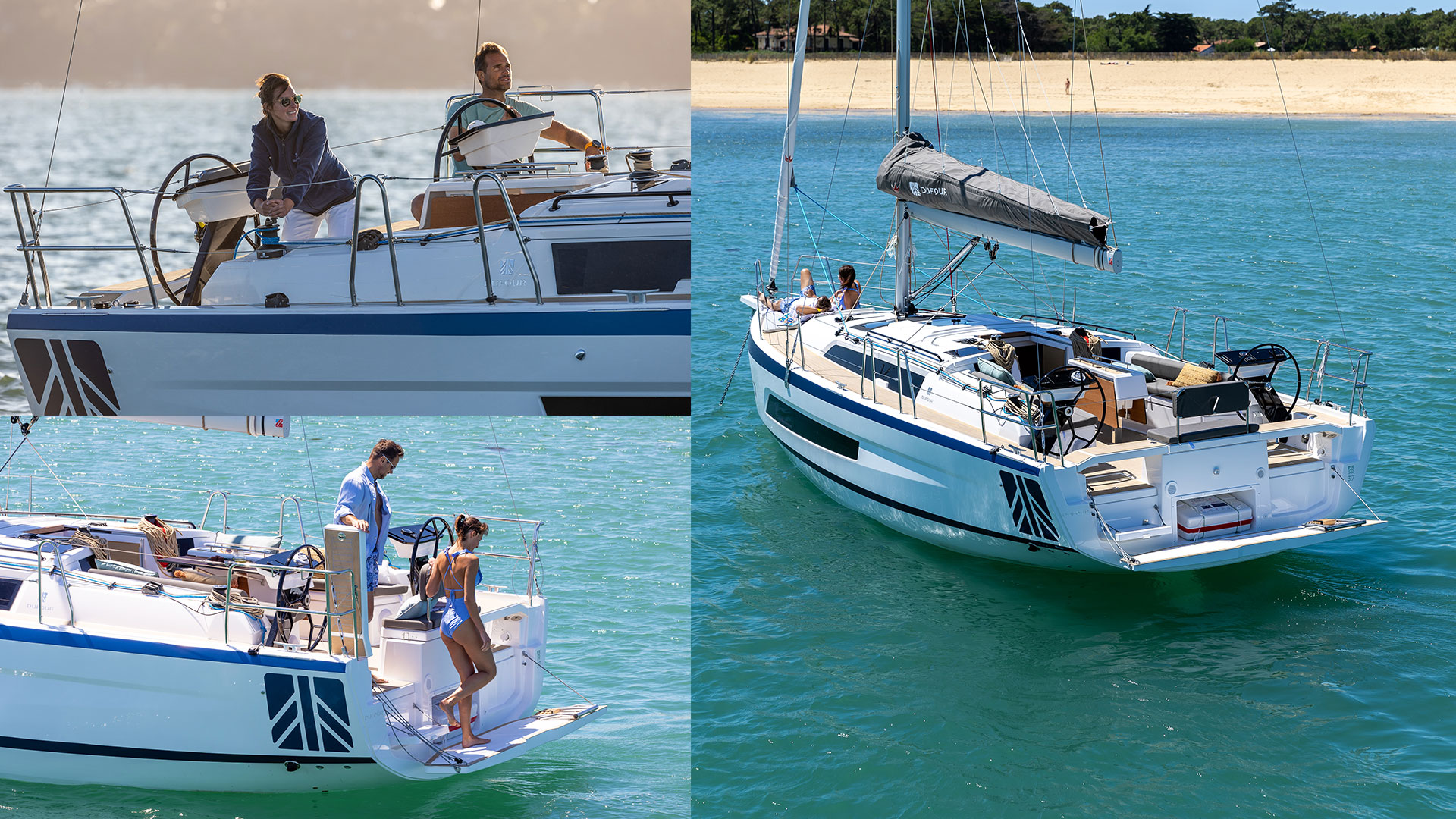 ~ ~ ~
Enhanced marine performance
This new unit benefits from a modern and steady hull similar to regatta boats, but with a slightly rounded hull bottom that favors its passage in the sea, while reducing the noise inside the boat. Thanks to a larger mast, the sail area has been increased, making this boat even more efficient. Built with a single rudder, enjoy more reactivity and vivacity during all your navigations…
Like the latest models in the range, this sailboat is available in three versions: Easy, Ocean or Performance for those who want to make the most of this model's marine qualities!
Tested by Dufour's teams, then presented to dealers before her worldwide launch at the Cannes Yachting Festival, she has shown excellent behavior, and has performed very well during her many outings.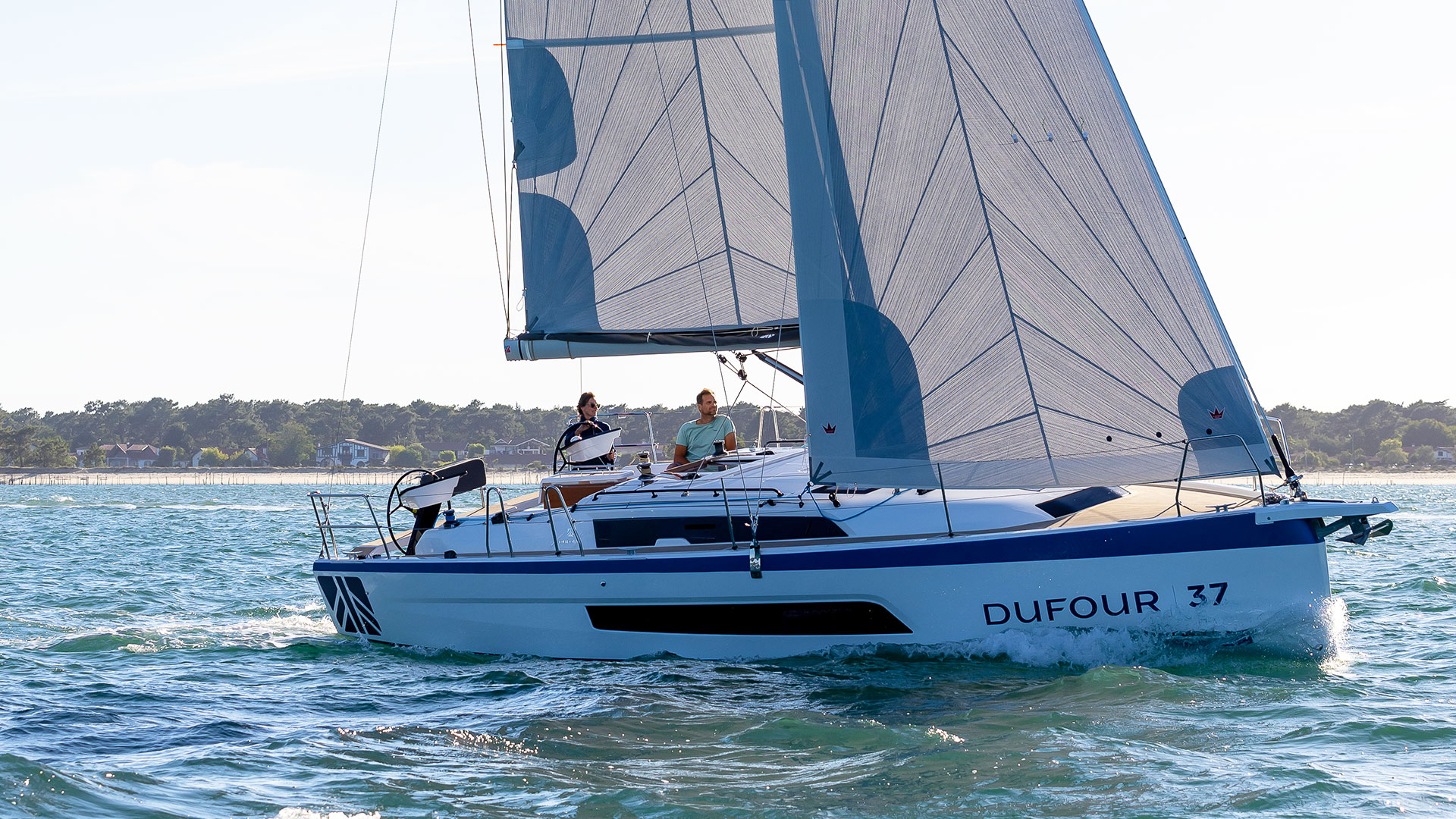 ~ ~ ~
A spacious and well thought out interior
Inside, two layouts are available depending on your sailing program.
In the 2 or 3 cabin version, you can enjoy an owner's cabin of a size rarely reached on a 10.80m luxury yacht overall. A real bed completes this forward cabin to create a room where we feel comfortable.
The hull windows and the height under the bars have been enlarged to bring more light into this convivial living space. The lounge becomes a real living room.
With the desire to meet all the needs of our sailors, the Dufour 37 is available in a 3-cabin version, perfectly complementing a charter's sailing program, or in a 2-cabin version with a larger bathroom. Ideal for a couple of owners wishing to invite friends or family!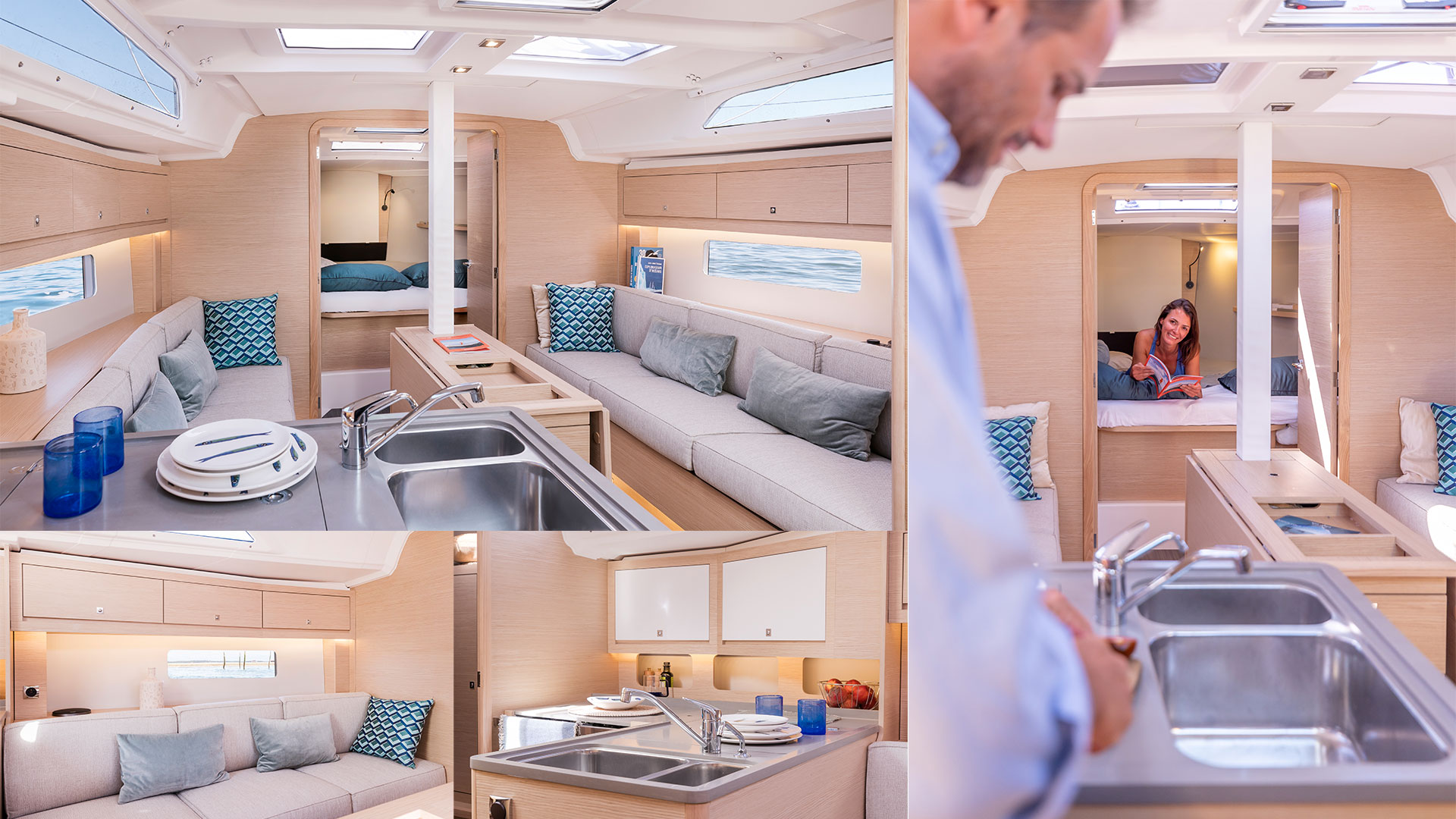 Discover the pictures and the movie of the sailing boat Dufour 37