Dufour Yachts is unveiling its new model 2023/2024: the Dufour 41
While the Dufour 37 has been a huge success since its launch last September, Dufour continue on this course and to offer you a sailing boat of over 12 meters in length which will complete the range by replacing the Dufour 390 and 412.
At 12.75 metres, this yacht designed by the shipyard's design team in close collaboration with naval architect Umberto Felci of the Felci Yachts Design and interior designer Ardizio Design, will seduce you and provide you some sailing unique. Particular attention has been paid to moving around on board this yacht, with large living areas both inside and outside.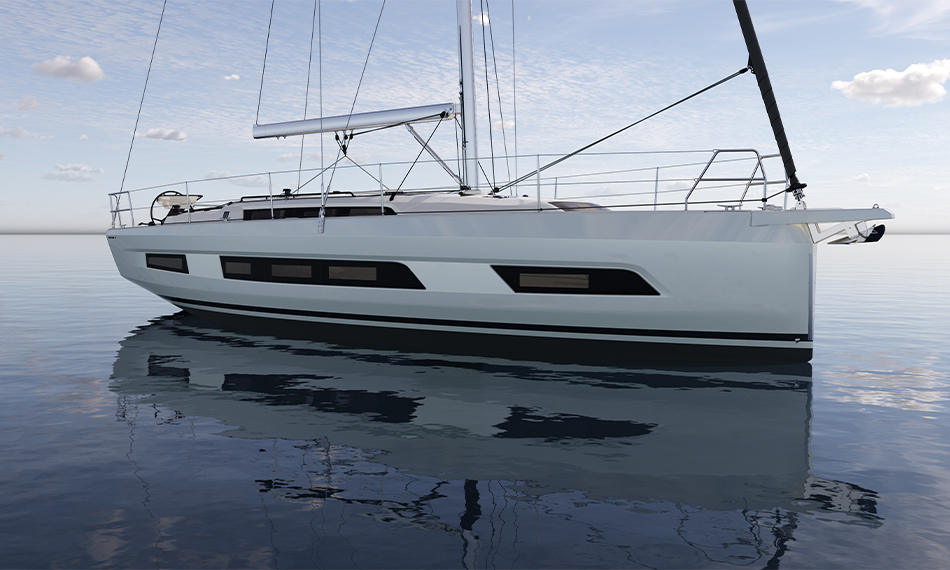 A innovative new concept
"With this boat, we've gone even further in developing the new concept initiated on the Dufour 37: to offer high-performance sailing boats with beautiful volume" – Umberto Felci, naval architect.
This new concept really comes into its own with the Dufour 41. With style, yet maintaining all its functionalities, this new model will meet all your expectations whether you are a future owner or also for charter companies.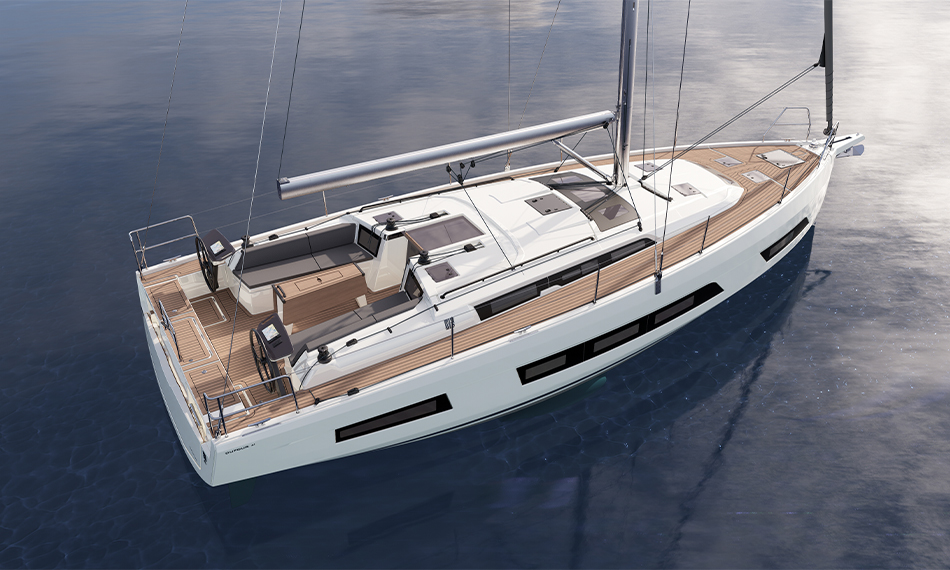 The shipyard's watchword: maintain the Dufour DNA. To build and design high-performance, comfortable and innovative boats. Aboard this 41-foot sailing boat, you'll appreciate the large cockpit, comparable to that of a much bigger yacht, with its comfortable seating and redesigned cockpit table and a proper, comfortable aft platform similar to the one on the Dufour 470. The wide side-decks will allow you to move from bow to stern and back again, easily and with complete peace of mind. The exterior layout of the Dufour 41 has been redesigned and the helm stations have been created with particular attention to the distance between the helm seat and the wheel, for comfort under way. You'll enjoy helming this yacht as well as some great sailing sensations.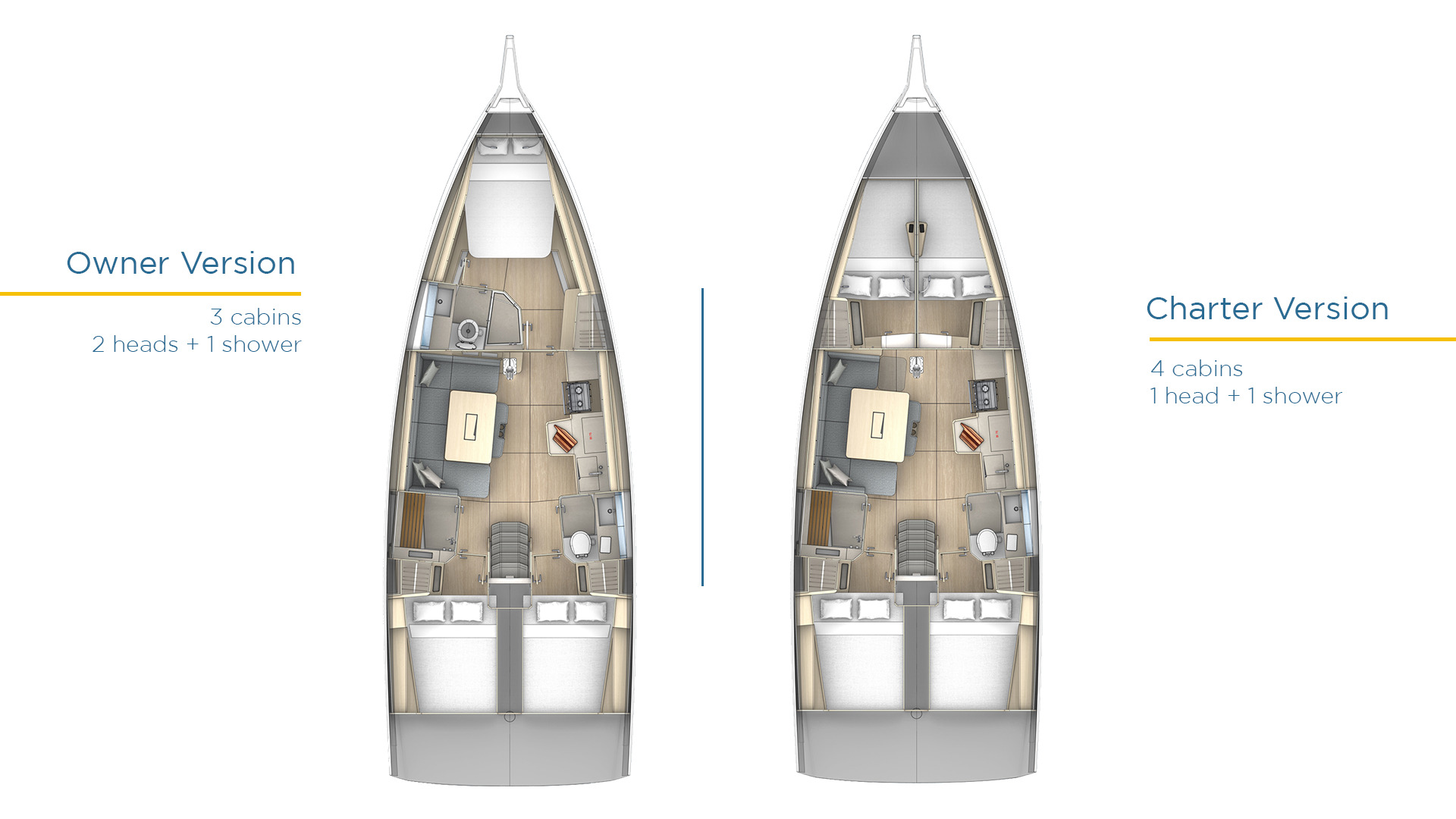 From outside to inside
This new sailing yacht is offered in two versions: either 3 or 4 cabins. Both versions have a similar configuration, with each version featuring a spacious saloon, a functional and central fore-and-aft galley, as well as twin aft cabins with good headroom.
This model has a completely new galley where two can cook together easily, with a large worktop and direct communication with the saloon.
Aboard the 3-cabin version, the owner's cabin offers you a luxury yacht-like experience with its own bathroom. In the 4-cabin version, you'll find two proper forward cabins with 145cm beds, i.e. real double beds. This arrangement is a first on a yacht of this size and the Dufour shipyard has paid particular attention to the soundproofing between these two cabins with a proper bulkhead to respect the privacy of your guests or of the crew.

Choices for all types of programmes
A new feature, and a significant one at that, has been developed on the Dufour 41. You'll be able to choose between three options for your bathrooms:
A proper heads compartment with toilet

A shower

Storage space
This is a genuine opportunity for owners to choose to fit out their future yacht with a real bathroom in the owner's cabin, and to choose between a shower and a storage space for the aft cabins, for example.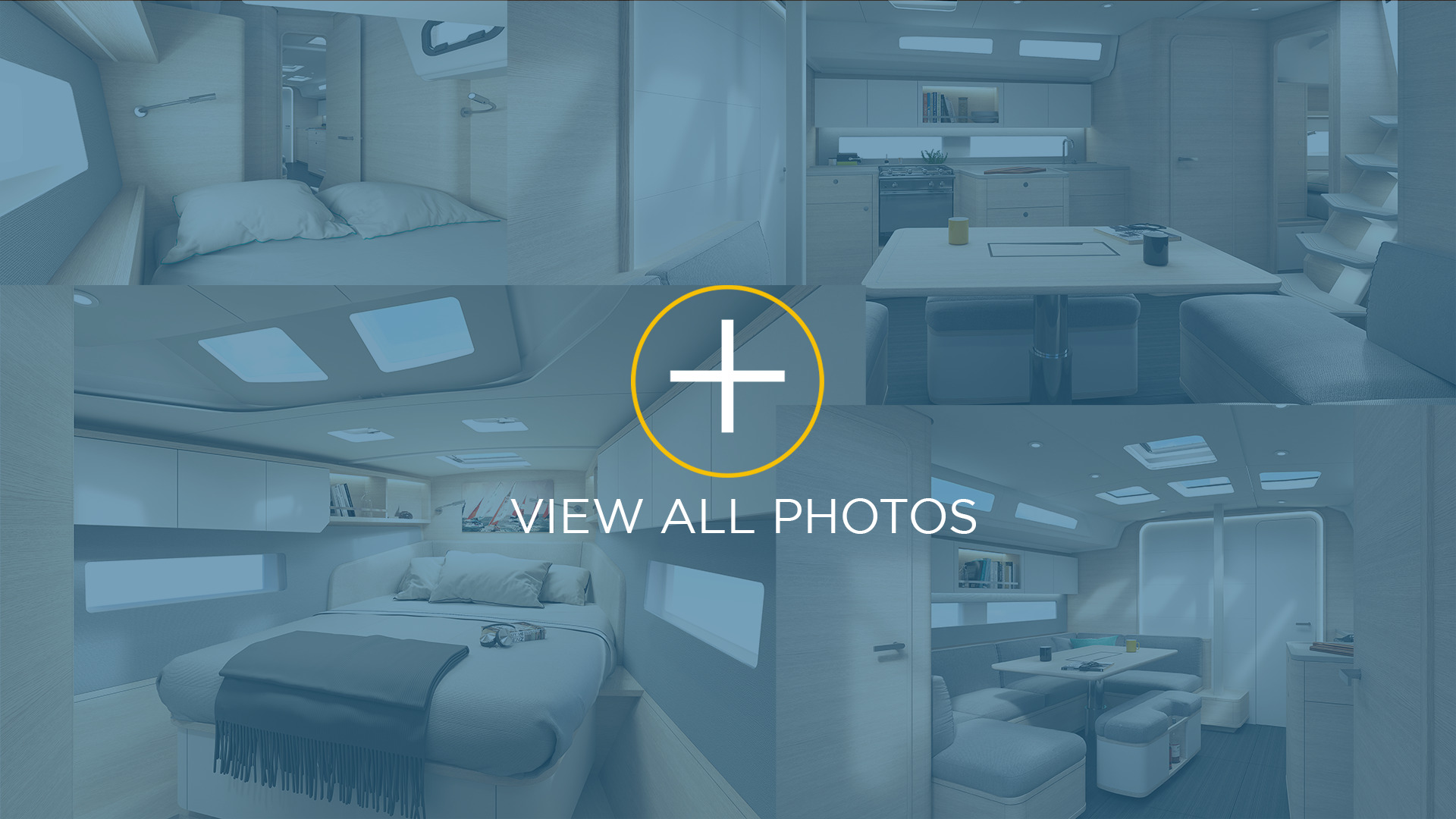 Luminosity and clarity
One essential feature that sets the Dufour 41 apart from her competitors is her luminosity. She enjoys around 60% more natural light than other yachts available. Thanks to its numerous openings with sea views, you'll be able to take full advantage of the environment around you.
Living in and out
Indoor/outdoor living takes on its full meaning aboard the new Dufour 41. A unique yacht where performance and comfort on board are intelligently combined.